SHSAA Honors Two Retired Generals
Two 1977 graduates of Salem High School who were generals in their respective military branches have been selected by the Salem High School Alumni Association (SHSAA) for its 2019 Honored Alumnus Award.
Click HERE for the video of Robert Ruak's speech.
Click HERE for the video of Jay Santee's speech.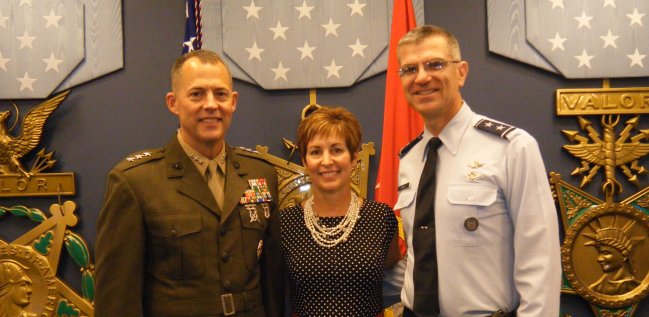 Retired Marine Corps Lieutenant General Robert Ruark '77 and retired Air Force Major General Jay G. Santee '77 will be the featured speakers at the association's 138th Annual Reunion & Banquet at 6 p.m., on Saturday, May 18, in the Salem High School Cafeteria.
"Both men had outstanding careers of service to our nation and accomplished extraordinary tasks as they rose to the highest ranks of the Marine Corps and the Air Force, respectively," said Frank Zamarelli '82, SHSAA second vice president and chair of the Alumni Relations Committee.
Zamarelli explained that when both men were nominated the Alumni Relations Committee simply could not choose between them. "So, for the first time in the 60 years that the association has given the annual Honored Alumnus Award, it will be given to two people in one year," Zamarelli said, adding, "We are thrilled that both men, who are friends, plan to attend the banquet with their wives."
At the time that Robert Ruark was promoted to Lieutenant General—that is, a three-star general—the Commandant of the Marine Corps, General James F. Amos, told the audience in the Pentagon's Hall of Heroes that there was a 0.076 chance of someone attaining three-star rank in the USMC.
Zamarelli said the odds are obviously much longer that two people from the same high school graduating class of 299 people would attain such high ranks in the US military.
"Ruark and Santee distinguished themselves as impeccable leaders while serving our nation in the military. As civilians they have continued to use their great intelligence and remarkable work experiences to serve others. We want to honor both of them for that," Zamarelli said.
Ruark Leads Private Foundation
Ruark, who retired from the Marines in 2017, is now president and CEO of the Marine Corps Scholarship Foundation in Alexandria, VA.
As the leader of the 57-year-old foundation, Ruark travels often to attend fundraisers and to meet one-on-one with donors. He and a staff of 30 people aim to raise $20 million annually to build an endowment and to cover the operating costs of the organization that provides scholarships of $1,500 to $10,000 for the children of U.S. Marines and Navy Corpsmen. In 2019 the foundation expects to award $8.1 million in scholarships to more than 2,300 individuals.
The foundation considers financial need, the impact of the parent's service on their upbringing, whether the parent was wounded, injured, or killed in the line of duty; and their scholastic achievements in awarding the scholarships. There is no age limit for applicants. Every child who qualifies receives a scholarship.
Half of the foundation's scholarship recipients are the first in their families to go to college. "They know they are getting a life-changing opportunity and want to make the most of it. They know they don't want to lose the scholarship, which is renewable for four years, and because they grow up with these values that we teach in the Marine Corps—honor, courage and commitment—they don't quit," he said. Marine Corps scholarship recipients have a 90% graduation rate, which exceeds the national average of 53% for people to complete a bachelor's degree within six years of enrollment.
After graduating from Salem High School, Ruark enrolled at Miami University in Oxford, OH, with a scholarship from the Naval Reserve Officer Training Corps. During his 36 years in the Marines, six Marine Expeditionary Unit deployments took him to dangerous places in the Middle East, Africa, and Eastern Europe at pivotal times including 13 months as the commander of the 1st Marine Logistics Group in Iraq beginning in 2008. That assignment was his favorite because of the closeness he felt with all the Marines and Sailors under his command as a one-star general. "You could just really feel part of the team [of 8,000 people on the base]; plus that [we] were doing a lot of good there even if it didn't hit the press," he said during a phone interview.
During most of his time as a Marine, Ruark's duties focused on logistics, which involves making sure personnel have the supplies, transportation, medical, engineering, and general support they needed to do their jobs.
In 2002, while assigned to Marine Corps Headquarters as the director of Logistics Modernization, Ruark initiated sweeping changes to logistics training, processes, and technology. When he was in command of the Combat Logistics Regiment 35 in Okinawa from 2005 to 2007, the regiment won the Phoenix Award as the top maintenance unit in the Department of Defense.
His final assignment as a three-star general was as the director of Logistics for the Joint Chiefs of Staff. He was only the second Marine to hold the Joint Staff J-4 post that dealt with planning and operational logistics for every branch of the military. Immediately before that assignment, from 2011 to 2013, he led the directorate within the United States Central Command that coordinated all logistics support to combat operations in Iraq and Afghanistan.
Ruark calls himself a generalist and explained that even when his assignment was "pure logistics" he considered personnel management a top priority. "You always have personnel, whether you are in command, or a staff position in the military, or the CEO in a civilian position. I think the Marine Corps taught me to be really balanced in being able to do everything," he said, describing the scholarship foundation as "entirely a people business."
In addition to graduating from Miami University with honors, Ruark's formal academic experiences include graduating with honors from the Marine Corps Amphibious Warfare School in Quantico, VA; receiving a master of arts degree at the Marine Corps Command and Staff College in Quantico, VA; and serving as the commandant of the Marine Corps Logistics Fellowship program at Pennsylvania State University's Smeal College of Business in State College, PA.
Ruark and his wife Christine Coetzee reside in Arlington, VA. Ms. Coetzee was a Marine officer for 13 years and then served 10 years in the Navy as a physician assistant. Ruark's sister Kim Ruark Geyer '76 resides in Sarasota, FL, with her husband Pat Geyer. Ruark's parents were George and Donna Ruark; both are deceased.
Ruark acknowledges that his father's career as a warehouse manager provided some early lessons. Because the family moved every few years when his father was promoted within the warehouse division of the A&P grocery store chain, Ruark had to adapt at an early age to new places and people. The family moved to Salem in 1974. He was one of two class speakers at graduation three years later.
Santee on Front Line of Space Defense
Since graduating with distinction from the Air Force Academy in 1981, Jay Santee has sought and thrived in positions of leadership in space defense and containment of weapons of mass destruction.
Following his retirement from the Air Force in 2014 as a major general, Santee has put his expertise to work on national security questions at two different federally funded research and development corporations, The MITRE Corporation and The Aerospace Corporation. These non-profit companies were created by the federal government to work with the government where in-house and private-sector research and development centers are unable to meet government needs.
From April 2015 to October 2017, Santee was the Director of Resilient Affordable Space at MITRE where he led, integrated, and synchronized MITRE's space projects and programs pertinent to outpacing the threat to US space systems.
Since October 2017 Santee has been vice president of Strategic Space Operations in Aerospace Corporation's Defense Systems Group in Colorado Springs, CO. In this role Santee leads the corporation's development of a resilient, affordable, lethal space enterprise. The teams he manages include engineers and analysts who provide technical intelligence, research, and counsel on emergent space threats; develop and recommend space architectures; and support development and prototyping of space capabilities.
Aerospace Corporation's mission is to work in the nation's interest to solve the most difficult space problems. From what Santee calls "this trusted position to speak truth to power," he is now leading an ambitious effort to change how the government buys equipment for its space defense programs. Santee says the US government's current process for procuring military systems is designed for point solutions with fixed requirements that integrate into a closed architecture. "What we really need to build is agile solutions that can adapt and change to ever-changing threat requirements and integrate into an open architecture," he said.
He is well aware that the changes he and Aerospace Corporation seek to make are taking on the military-industrial establishment and have the potential to reverberate from the Pentagon and halls of Congress to defense contractors' operations across the nations.
"This is about outcomes not equities; invariably discussions in Washington devolve to equity discussions," Santee said, explaining his reference to individuals' and corporations' concerns about their contracts and ways of doing business.
"Everything must change," Santee said, citing the US's engagement in a "Gray Zone War" with China and Russia. He explained during a phone interview that these nations have taken a "very aggressive posture" to engage and attack US satellites in space, and to gain the intellectual property of US companies by either purchasing assets or engaging in cyber espionage to steal technologies.
It's not the first time Santee has been plainspoken in his advocacy of an innovative approach—one that initially encounters resistance—to an extremely challenging problem. As deputy director of the Defense Threat Reduction Agency (DTRA), his final assignment as a two-star Air Force general, Santee played a key leadership role in identifying at-sea neutralization as the best option for dealing with Syria's stockpile of chemical weapons.
After winning approval for the plan that some criticized as too dangerous, he facilitated the collaboration of multiple US government agencies to equip a container ship, the MV Cape Ray, to carry out this successful international humanitarian mission in 2014. That same year Santee was awarded the 2014 Ellis Island Medal of Honor.
Prior to his DTRA assignment, Santee provided space policy advice to the Secretary of Defense for three years. His work there led the government of France to "invest" Santee as a Chevalier de la Légion d'Honneur (Knight of the Legion of Honor) in 2012 for fostering bilateral space cooperation between the French and US governments.
Santee's other assignments included serving as vice commander of the 14th Air Force at Vandenberg Air Force Base, which is the Air Force's component to the U.S. Strategic Command for space operations. Santee began his military career as a navigator. His 1,800 flight hours included 120 combat hours during Operation Desert Storm.
He currently serves on the U.S. Strategic Command's Strategic Advisory Group and on the Advisory Committee for the Secure World Foundation.
In addition to his undergraduate degree, Santee's academic experiences include earning a master's degree in business administration from Golden Gate University and participating in the Program for Senior Executives in National and International Security at Harvard University's Kennedy School of Government.
He and his wife, Teresa Santee, have two adult daughters. Mrs. Santee is a speech and hearing therapist. Rachel Santee Jacobs and her husband Arlen Jacobs have four children: Natalie, Burton, Theodore, and Russell. Emily Santee Jones is married to Steve Jones. Santee's parents are Don E. Santee of Salem and Robin Santee of Canfield. His brother Drew Santee '81 resides in Greensboro, GA, with his wife Jenny.