SHSAA Selects Peter Apicella, M.D., as 2018 Honored Alumnus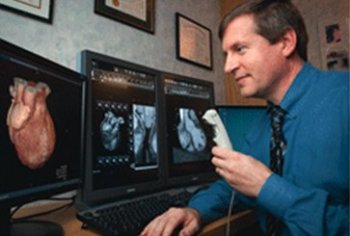 SALEM–The Salem High School Alumni Association (SHSAA) has selected Peter Apicella, M.D., as its 2018 Honored Alumnus.
Click HERE to read his speech to the graduates at the Alumni Association Banquet on May 19, 2018.
Click HERE to see a video of the baquet.
Making a difference in his hometown
Apicella grew up in Salem and decided to return to Salem to practice medicine after earning undergraduate and medical degrees and completing training in diagnostic radiology.
Frank Zamarelli, Salem High School Alumni Association (SHSAA) vice president who chairs the Alumni Relations Committee, noted the association received many applications from all over the country.
"We are happy to award this honor to Dr. Apicella. He embodies excellence in many facets of his life and is an exemplary Salem High School graduate," Zamarelli said.
"Aside from his extensive medical experience and excellent care of Salem Regional Medical Center patients, the many generous ways that Apicella contributes his time and talents to make a positive difference in the community beyond his work as a physician made his nomination stand out.
"For example, Apicella uses his computer knowledge to assist local nonprofit organizations such as the Rotary Club of Salem, the Salem Community Center, and the Salem High School Alumni Association, to name a few."
As chairman of SHSAA's technology committee and as a board member, Apicella has created SHSAA's current website with archival information that includes yearbooks and Quaker student newspapers back to 1893; scholarship recipients back to 1908; an alumni remembrance and military recognition section; and even high-fidelity band concerts from the 1950 and 1960s. This past year he led the revision of the association's bylaws and update of its computer system.
"I am proud to recognize Dr. Apicella as an outstanding 1982 classmate, colleague, and friend," said Zamarelli.
Capitalizing on national craze
As a Salem High School student, Dr. Apicella was known for his math and computer skills. In 1977 as a seventh grader he built a minicomputer with his father, Frank Apicella, M.D., who was a radiologist at Salem Community Hospital. This was before the personal computer revolution, and Apicella taught himself computer programming, earning early Microsoft Software Developer certification.
As an entrepreneurial teenager, Dr. Apicella not only taught himself to solve the Rubik's Cube — the top-selling puzzle game that was extremely popular in the 1980s — but he also wrote a book with step-by-step directions. He and James Harrington, also of SHS Class of 1982, then formed a company to sell it through advertisements in The National Enquirer. They even copyrighted the solution method and had the book placed into the Library of Congress.
Dr. Apicella graduated as a top 10 academic student in the Class of 1982 and received a $5,000 academic scholarship from SHSAA. He enrolled at John Carroll University in Cleveland and earned a bachelor's of science degree in biochemistry and computer science, graduating summa cum laude. While in college he wrote artificial intelligence software for chemistry instruction that won several awards.
During summer breaks from college he wrote computer software for several Salem area physicians to maintain health records and perform medical billing, which was an early form of electronic health records used today. He also developed an early computerized remote X-ray viewing service known as teleradiology that was used by the Salem Community Hospital.
Blending computer knowledge with medical studies
Convinced that medicine needed to utilize computers, Dr. Apicella decided to attend medical school at Washington University School of Medicine in St. Louis in August 1986. In addition to learning the art of diagnosing and caring for patients, Dr. Apicella performed research that crossed the emerging field of computer science with medicine. For instance, he designed an artificial intelligence computer radiology teaching system and helped design an advanced imaging system that is still part of the underlying medical imaging technology used today.
After earning his doctor of medicine degree, Dr. Apicella completed a four-year residency program in diagnostic radiology at the Mallinckrodt Institute of Radiology, an international leader in medical imaging services at Washington University. His work there led to several published research papers and presentations at medical professional conferences.
Returning to Salem
Dr. Apicella and his wife Sherri, who grew up in St. Louis, moved back to Salem because they wanted to raise their children in a safe, quiet place. The couple's two daughters are now both enrolled in college: Julianna at Rochester Institute of Technology in Rochester, N.Y., and Alexandra at Miami University in Oxford, Ohio.
In 1994 Dr. Apicella joined his father and his uncle, Dr. Salvatore Apicella, M.D., at Salem Radiologists Inc., a private medical practice that provided radiology services at Salem Community Hospital, now known as Salem Regional Medical Center.
"Being able to come back to my hometown and take care of the families of the many people that I grew up with has been very satisfying. Every day I recognize the names of families and friends in need of my care," Dr. Apicella said.
Through his forward-thinking medical practice and multiple leadership roles at the Salem hospital during the past 25 years, Dr. Apicella with the support of the hospital board has ensured that local residents have the most advanced medical imaging technologies available. These include 3-D computed tomography (CT), 3-Tesla (3-T) magnetic resonance imaging (MRI), 3-D mammography, high-definition ultrasound, digital X-rays, and positron emission tomography (PET/CT) that allow Dr. Apicella and his colleagues to diagnose a wide variety of illnesses. Read more about the technology at www.salemrad.com.
"The technology is the key to everything I do," Dr. Apicella said. "We look for advancements in medical imaging that can improve the care of our patients," explaining that physicians from other cities including Akron, Canton, Youngstown and Sharon send patients to the Salem Regional Medical Center for 3-D CTs and 3-T MRIs using the highest quality machines available between Cleveland and Pittsburgh.
During an interview at his office, Dr. Apicella explained that he "is very excited about" the technology that makes it possible to diagnose cancer before it spreads and artery blockages before a heart attack occurs. For patients, the difference is "life changing." "This is why I love what I do as a doctor," he said.
Serving the Salem community
As an energetic person who efficiently tackles challenges during his busy work days, Dr. Apicella also makes time for various community service activities.
For the past 17 years he has coordinated Salem Rotary Club's Annual Career Day at the Kent State University Salem Campus for more than 100 Salem High School juniors, involving more than 50 professionals sharing information about their careers. He has helped other communities create similar programs and has been awarded Rotary International's Vocational Service Award, Rotary's highest honor, for these activities.
Throughout the year Dr. Apicella talks with local students individually or in groups and encourages them to pursue healthcare careers. He also serves as medical director of the Kent State Salem Radiology Technologists Program.
Dr. Apicella is a member of the board of directors of the Rotary Club of Salem and chairs its vocational committee and charitable foundation. He acted as club president from 1999 to 2000. He is the past chair and an active member of the Salem Regional Medical Center staff, along with serving on its board of directors. He is the past chair, secretary and a member of the board of directors of the Salem Community Center. He is also the president of Salem Radiologists Inc., the medical practice that his father founded more than 50 years ago.
He considers computer programming his hobby and contributes custom-designed websites to several organizations in which he is involved. In addition to the Salem High School Alumni Association's website (www.salemohioalumni.org), Dr. Apicella has created websites for the Salem Community Foundation (www.salemcommunityfoundation.org), and the Salem Community Center (www.salemcommunitycenter.com).
Recently he completed created the web interface for the Salem Public Library to make its microfilm copies of the Salem News back to 1905 available online at www.salem.lib.oh.us/SalemNewsFilm
"I chose medicine to combine my knowledge of computers and science to care for others. I chose radiology following in my father's footsteps because of its extensive use of technology and my ability to interact with physicians and patients. I returned to Salem to make a difference in my community. I am rewarded every day for that decision."
This article was published in the Salem News on 4-8-2018 (www.salemnews.net/news/local-news/2018/04/shs-alumni-association-honors-dr-apicella/)