Dr. Randy L. Hanzlick Is 2014 SHS Alumni Association Honored Alumnus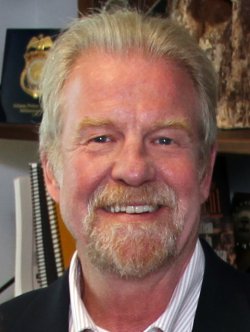 Dr. Randy L. Hanzlick, a physician who has been the chief medical examiner in Fulton County, Georgia since 1998, is this year's Salem High School Alumni Association Honored Alumnus.
Hanzlick has received numerous professional awards for his national efforts to improve forensic pathology practices and death investigation systems based on his work as the medical examiner for the county the covers the Atlanta metropolitan area, for the Centers for Disease Control and Prevention (CDC) and at Emory University. Both the CDC and Emory are in Atlanta.
Hanzlick graduated from Salem High School in 1970 and earned his bachelor's degree and then medical degree from The Ohio State University. He credits Walter "Bing" Newton, his Salem Junior High School science teacher, with instigating his interest in science and medicine. His family's former Salem physicians—Drs. Vernon Ziegler and William Hoprich—also encouraged him to pursue a career in medicine. And Dr. William A. Kolozsi, who served as Columbiana County's coroner for many years, provided positive feedback about his career choice during Hanzlick's pathology residency.
At OSU Hanzlick was mentored by Nobuhisa "Nobi" Baba, a forensic pathology professor who introduced him to the potential for forensic pathology—the study of death—to benefit the living with insights that improve public safety and health. "It is the forensic pathologist's job to find out how and why a person died, and to document information that can be used to answer questions and to address legal issues that may arise. For example, if one person is killed by another, our information may be used in the criminal court to bring justice," Hanzlick explained.
Throughout his career Hanzlick has been involved in efforts to improve medicolegal death investigation systems, the guidelines and standards of forensic pathology practices, and the education of forensic pathologists. He currently directs the forensic pathology fellowship training program at the Emory School of Medicine and serves as vice chairman of the Scientific Working Group for Medicolegal Death Investigation, a national working group.
The most important of his numerous collaborations with the CDC may be the development of national guidelines for the investigation of sudden, unexplained infant deaths. Hanzlick hopes that more thorough investigation of these deaths will provide information that can help prevent more tragedies. He has written extensively on this topic and other forensic pathology issues, as well as authoring several textbooks, numerous chapters, and hundreds of scientific journal articles.
Both the high caliber of Hanzlick's research and his leadership in forensic pathology have been recognized by his peers.
In September he will receive the Helpern Laureate Award, the highest honor awarded by the National Association of Medical Examiners (NAME). Hanzlick served as NAME's president in 2001, and he received the organization's Lifetime Service Award in 2007. He is also a Distinguished Fellow of the American Academy of Forensic Sciences.
Hanzlick acknowledges that thinking about death on a daily basis and encountering numerous incidents of violent death could weigh one down. However, he maintains an upbeat attitude. "I have always tried to look at the bright side and realize how kind, loving, and strong most people can be. The positives in life far outweigh the negatives, and I try to concentrate on the positives," he said.
Hanzlick and his wife Mary reside in Atlanta with their two daughters, Caitlin and Marinna. His parents are Betty Albright Hanzlick, who resides in Atlanta where she plays golf weekly, and the late Walter Hanzlick.
Speech at Annual Banquet, May 24, 2014:
Good evening alumni, friends, families, teachers, and students-- and special congratulations to graduating seniors, scholarship winners and the classes of 1944, '54, and '64. The Salem Alumni Association is a wonderful and well-run organization that helps many students like you. I am proud to be an alumnus of Salem High, and it is gratifying to see how the Alumni Association has grown over the years. Thanks to all of its past and present leaders, members, and staff.
Salem and its school system and families form memories that I have not forgotten, and which I hope you will never forget. Just ask my mother, Betty, who is here tonight at age 94. She graduated from Salem High in 1938, and if she's not playing golf, she's probably thinking or talking about Salem and its people. My cousin Barbara Wright, also here tonight from the Class of '55, lives in Maryland but she follows Salem as if she were writing the Salem News. My mother worked at Deming and processed orders for pumps. My dad was carpenter and then a janitor at EW Bliss. We lived in a small house and did not have a lot of money. But my parents taught me a strong work and study ethic which helped my dream come true. So can your dreams come true.
I refer to Salem as the "Center of the Universe." There have been many talented and productive people from here. Did you know the first governor of Wyoming in the late 1860s, James Allan Campbell, was from Salem? While Governor, his state was the first to allow women to vote. That's a big deal. And you know what? He probably learned good values and common sense from his Salem family. You have too. Use them in your life.
Salem is the center of my universe because it's where I come from and where people here prepared me for life. I grew up across the high school parking lot on 9th street. I remember walking or riding my bike to McKinley Elementary School, Salem Junior High on Lincoln Avenue, and this very High School. I ate hundreds of meals in this cafeteria. I even had to go the principal's office up the hall a few times to have serious chats with Principal Joe Marra and Vice-Principal John Callahan. Your principal, Dr. Shivers, probably remembers those folks like I do. I remember playing in the pep band at basketball games and playing drums while marching in the band to Reilly Stadium for the football games. But more than that, I remember my teachers. You should too. Be sure to thank them now and in the future for what they have done for you.
In kindergarten, I had a crush on Beth Grimm and I hid her shoes so I could help her find them so she would have to pay attention to me. Mrs. Barrett, the teacher, figured it out and she was not very happy with me. Neither was Beth, actually. Mrs. Barrett taught me right and wrong. I will never forget teachers Mrs. Weaver, Stitle, Burford, Lindemann, Duncan, and Konnerth at McKinley Elementary School. They taught me basic skills. In the last round of the spelling bee, I misspelled the word chaos as K-A-O-S, and McKinley coach and spelling bee announcer David Brooks said, "gees Hanzlick, that was stupid." You know, he was right! He taught me honesty. I will always be thankful for Mrs. Leaf at Salem Junior High for sparking my interested in math, and Mr. Newton for getting me interested in science and medicine. In high school, Mr. Ollomon kept me interested in biology. Many other teachers influenced me, but I do not have time to name them all. I remember and thank them, however. Teachers help people for life and should never be forgotten.
Many students in this country are not so lucky to have the opportunities you had in Salem. Some of your graduating class of 2014 will stay in Salem. Some will move away and never come back. Some of you will go away for a while and come back later. But you all have common roots and experiences in Salem which will help carry you through the rest of your lives. You learned good principles and values here. Be thankful for that, and put them to good use in your life.
55 other people have received the Honored Alumnus Award. It is a diverse group of people with different interests and talents. There are former teachers, professional athletes, successful business owners, military personnel, artists, engineers, physicians, musicians, bankers, writers, pilots, historians, professors, jewelers, veterinarians, ministers, and scientists. But they all have one thing in common. They came from Salem. Some may be rich in money, but all are rich in life, spirit, and happiness. You should learn from this that anything you want to do is possible, because you went to school here. Never forget that.
There is a need for people of all types in the world. We need waiters, trash collectors, teachers, doctors, lawyers, carpenters, business owners, mothers, and fathers. No matter what you do, always try to be the best at what you do. If you do that, you will be happy. Join organizations that have to do with your type of work, and contribute your time and effort to those. Volunteer your time and skills. You may even win awards like the one I have received tonight. But the real reward is knowing you did good things and did your best. For every good thing that happens to you, somebody probably helped you. Thank them, and pay it forward to others, and help them.
Now that you are graduating, you may think that you know everything. But you don't. You are just getting started and you will probably be a least 30 or 40 when you have a reasonable understanding of this world. Here is what I have figured out and would like to share to help you along in life and in this world: Don't rush into things. Think before you act. Learn as much as you can. Be patient. Set out on a course and follow it through to completion. Don't give up. Treat other people well, especially your parents. Forgive people. Avoid anger. Be thankful. Go to church. Separate what you want from what you really need, and be practical. Save some money. Donate some money and give of your time. And most important right now, pick a college major or vocation that will give you multiple career options, prepare you for further study, and qualify you to get a job, and a good job. Even if you face hardships or setbacks, have hope. If you do these things, you will be successful.
I have spent my life dealing with death almost every day, figuring out why and how people die. I have seen much sadness, violence, and misfortune. But that makes me realize and appreciate how kind, caring, and loving people can be, and that the positive things in this world far outweigh the negative things. Always look at the bright side.
In 1970, we had a very large Quaker Sam at Reilly Stadium and the football players would run between his legs when coming on to the field. Some West Branch kids stole his head. I was put in charge of making a new head. I didn't have much time and when I put his head back on, it was way too small. Quaker Sam looked ridiculous. But I did the best I could with the time I had, and eventually Quaker Sam was restored to normal. Do the best you can, and things will eventually work out.
I bought my wife a Valentine's card that said, "We hold each other's hand, we hold each other in our hearts, and you hold my dreams in your heart as if they were your own." My best wish for you is that you find someone to spend your life with, and to whom you can say such things and really mean it. I could not have done the things I have done without the love and support of my wife, Mary. I say to her, I love you, and thank you.
There are several Salemites I would like acknowledge. Hank and Dottie Zimmerman, Bob and Marilyn Roberts, Jere Hochadel, Fred Leininger, and my relatives in the Merle Wright, Roy Griffith, Elmer Vignon, and Richard Albright families. All of these people and their families played significant roles in my life. Kenny Wilson, honorary classmate of 1970, has been my friend and main contact with Salem all of my life. To all of these people, "Thank you.ˮ
The National Anthem we sang says this is the "land of the free and the home of the brave." That freedom allows you to follow your dreams. Do that, and be brave about it. Don't chicken out. Keep following your dreams. And listen to the words of our Alma Mater which we will sing in a couple of minutes. "We honor our high school, we sing of its praise ... We all love it dearly." And, "We'll cherish its memories our whole life through." I do, and I know you will too.
I will cherish the Honored Alumnus Award the rest of my life. Seniors and scholarship winners, I wish you happiness, success, and peace in your lives. Good luck. Move on, and never forget Salem High. It was here you got your start. Give thanks you had that opportunity. Make Salem proud.
Questions & Answers with Dr. Randy L. Hanzlick:
How did you get interested in forensic pathology?
First of all, I have to thank and give credit to Walter "Bing" Newton, my Salem Junior High School science teacher. He is the person I credit for getting me interested in science and medicine, along with our former family physicians in Salem, Dr. L.C. Ziegler and Dr. William A. Hoprich.
When I was doing my pathology residency at Ohio State, the Franklin County Coroner in Columbus had his autopsies performed in the same autopsy room in which the OSU Hospital autopsies were performed. One of my favorite professors, Nobuhisa "Nobi" Baba, was a forensic pathologist who performed autopsies for the coroner. He introduced me to the specialty, would show me interesting cases, and told me about coroner and medical examiner work. At out this same time, my Uncle Joe Hanzlick was dying and I went to Salem to see him at Salem Hospital. Dr. William Kolozsi was the Columbiana County Coroner and I also spoke with him at the hospital. He gave me positive feedback and encouragement to go into forensic pathology. Although I used to watch the show "Quincy," it was early enough in my life that it did not have an impact on selection of my career.
How have you learned to process the emotional aspects of your job, particularly violent deaths?
In general, exposure to the unpleasant or unusual aspects of the job was gradual. First there were anatomy classes. Then came autopsies on hospital patients and those did not involve violence or extensive injury. Eventually, exposure to various types of deaths involving non-natural causes such as homicide, suicide, and deaths due to accidental injury or drug intoxications came into play, as well as unexplained infant deaths. These experiences came gradually enough that one could adapt to them. It is odd to deal with death on a daily basis. Most people think about it rarely or when a loved one or friend dies. In my profession, it's a daily thought process. One could get weighed down with the violence, self-destruction, and cruelty that some people experience. But I have always tried to look at the bright side and realize how kind, loving, caring, and strong most people can be. The positives in life far outweigh the negatives, and I try to concentrate on the positives.
The Emory Health Magazine article that was included with your nomination mentioned that you consider part of your job to bring justice to the deceased. Can you expand on how that guides your work and how you direct your staff?
When a person dies, they can no longer speak for themselves. Some people's lives end because of the actions (or inactions or neglect) of other people. It is the forensic pathologist's job to find out how and why a person died, and to document information that can be used to answer questions or address legal issues that may arise. For example, if one person is killed by another, our information may be used in criminal court to bring justice. If someone dies of an injury on the job, our information may be used in civil court when lawsuits arise. It's basically an issue of speaking for the deceased or their families. There is an old Latin phrase that hangs above the doors of some autopsy rooms which, when translated, means "This is the place where death delights to help the living." In some of our cases, we find causes of death which may run in families, and we can advise family members to seek medical evaluation to make sure they do not have the same potentially fatal disease. Or, we might find that multiple deaths are being caused by a certain drug that is actually dangerous, and the drug can be pulled from the market or be modified in how it is used. There are many other examples of how our work benefits the living, both in terms of public health and public safety.
How has your work in Atlanta meshed with the public health mission of the CDC?
I actually worked directly with the CDC from 1991 to 2000 in a program called "The Medical Examiner/Coroner Information Sharing Program (MECISP). The major goals of this program were to improve death investigations and facilitate the use of medical examiner and coroner information for public health purposes. I have written several articles on this topic and have been engaged in numerous studies and projects with the CDC. One of the most important ones was the development of national guidelines for the investigation of sudden, unexplained infant deaths, with the hope that more thorough investigations could provide information that might be useful in preventing such deaths. Deaths certificates are processed by the National Center for Health Statistics (NCHS), which is part of the CDC. I have worked with NCHS on several projects on how to improve information on the death certificate, and have authored books and guidelines on how to properly complete the death certificate.
Have television crime dramas increased interest in your profession? What has been the effect of this on your office?
In general, television shows have increased interest in forensic science, and to some extent, in the field of forensic pathology. A lot of people I see at forensic science meetings actually dress like they selected their clothes based on television show characters! I typically do not watch such shows because they are often not accurate in how they portray things. But they have encouraged people to pursue a forensic science career. One thing that has happened is the "CSI Effect" in which, because of such television shows, the public has unrealistic expectations about what we can do and how fast we can do it. In terms of the impact on my own office, we get many more calls than we used to about "why did you do this?" or "why didn't you do that?" or "why are things taking so long?" The public develops certain expectations that we sometimes just can't meet, like determining an exact time of death, or finding a specific cause of death in every case.